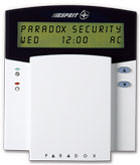 1641 Spectra LCD keypad
User Manual 626 / 646 (requires Acrobat Reader)
The Esprit and Spectra Paradox line of professional hardwired alarm systems represents the latest technology and some of the finest "high end" equipment on the market. These panels provide the maximum in false alarm prevention features and remote diagnostic capabilities available from any panel in the market today. With sophisticated "real time" upload / download software, this panel allows your dealer to provide you the very best in remote diagnostic and service capabilities. It is also one of the most user friendly systems to operate, with a multitude of features available at the touch of a button. The Spectra is an excellent choice for those requiring add on wireless zones, key fobs, or remote voice answer and control.
Key Features
| | |
| --- | --- |
| | Esprit panels available from 4 to 24 zones at very competitive prices. Spectra from 7 to 15 zones. |
| | Choice of three different keypads |
| | Full range of motion, glass break, smoke, low temperature, heat detection, carbon monoxide, flood and sump pump level switches available. |
For further information on the superior line of Paradox panels, see their website
DSC Alarm Panels
For those customers wishing DSC equipment, the non expandable 6 zone DSC 1555 can be installed for identical pricing. The expandable, 8 zone Power 832 is slightly higher in price due to the higher wholesale cost of the panel and keypad. The Power 832 panel is also an excellent choice for those requiring up to 32 zones, add on wireless capabilities, remote voice answer and control (Escort module), and can form the basis for a low end home automation system (when coupled with X10 system modules installed by the homeowner).
This panel comes with the 8, 16, or 32 LED keypad, or the Fixed Icon LCD keypad at no extra charge. The high end full English language LCD keypad is considerably more money at $135 each (or $50 as an upgrade).
Fixed icon LCD Full LCD LED keypad
Pricing (Installed) less GST
A typical residential installation typically involves installation of a 6 or 7 zone panel and keypad, plus wiring hidden contacts to 3 or 4 doors, the installation of 2 pet resistant motion detectors, and involves two men working a total of about 6 hours to install properly (no exterior wires showing). The average sale price is $550 to $600 installed. If the home has been properly pre-wired, you can deduct $50 from the above price. We always install superior pet resistant motions at no extra charge. One monitored smoke detector is included (second is $50 installed), low temperature devices are $30 installed,sump pump level switches are $30, as are basement floor flood control monitors. Natural gas or CO detectors are $75. If a larger panel is required (15 zone Spectra, or 16 zone DSC Power 832, we only charge the wholesale price difference between the two sizes of panel- usually an 8 zone expander at $60).
These prices assume the majority of the basement ceiling is exposed or hidden above removable tiles. Drywall finished basement ceilings make it virtually impossible to install a conventional hardwired alarm system above the finished area (see my article re wireless alarms)
ULC quality monitoring is available for $14.95 monthly term plus GST (Pre Authorized Payment Plan only by automatic bank withdrawals or credit card), no long term contractual obligations (monthly term only), with a 5 year written guarantee against rate increase, free after sales service, and 100% warranty on all equipment including backup battery. However, since the alarm system is generally the last thing you should consider in your overall security upgrading, see package pricing for unbeatable prices for combined services.
See also my new home construction package for all the common things needed to properly secure your home