Things to remember after you've had an alarm system for awhile
After you have your alarm system for awhile, it becomes too easy to start to take it for granted, even forgetting about it's presence to a large degree. A casual attitude towards your system can lead to ongoing difficulties if you are not careful. As such, we suggest you remember the following cautions:
1- Review your calling list from time to time to make sure all numbers on it are current and that they have been transmitted to your central station. If you are going away for any length of time, make sure your monitoring station is aware of this, and advise them of who on your calling list is responsible for access during your absence.. This may require a temporary re-arrangement of your list during your absence (done over the phone with station personnel) or it may necessitate the addition of new parties to the list (usually done through your dealer in the case of third party dealers).
Note: If using my services, any NEW additions, even temporary ones, must be conveyed to me via fax (613)737-6093, by email (rh.campbell@homemetal.com) or by telephone. I must then fax these changes to the station. In all cases, I will confirm receipt of your instructions and changes.
2- If you are doing any welding, soldering, or wood sanding in your basement, and there is a smoke detector present on your alarm system, always cover it with plastic temporarily while working. Failure to do so, may very well clog up your smoke detector and result in a false fire dispatch when the unit false alarms in your absence. (Here in Ottawa, the approximate cost to the city of dispatching a fire truck is roughly $1500 - serious business to say the least !!)
4- Monitored smoke detectors hooked to an alarm do NOT talk to you. If you have a smoke detector that is beeping and telling you something verbally, these are ALWAYS the interconnected AC powered smoke detectors that are installed by law on each level of the home. They are either dirty and have triggered, or they need the 9 volt backup battery to be changed in at least one of the interconnected devices . Note that even after you have changed out the backup battery(s) for a fresh one, some models will not stop nattering at you until you set each smoke detector into alarm using the test button built in. It seems some models don't test for the new battery until called upon to go into alarm..???
5- If changing your bank account, and your alarm and other payments are covered by automatic withdrawals from your bank account, be sure to leave the account open for an additional month even after advising all your service providers. Due to differences in billing dates, failure to do so, may result in defaulted payments which generally result in a $20 bank charge, charged back to you.
6- Don't forget to advise your alarm company when there is work being done in your home, and contractors must be temporarily added to your calling list. The same caution applies with real estate agents who might be showing the home when you are selling it.
7- Have your contractors (especially drywallers) pay particular attention to the presence of low voltage wires for your alarm while finishing your basement. Most broken wires are NOT repairable after the drywall is up except with expensive wireless components.
8- VERY IMPORTANT If you have the phone company or the cable company in to do any changes to your telephone or cable systems, ALWAYS check your alarm system before they go to ensure they haven't destroyed the proper connection to your alarm. Telephone company employees and their contractors are particularly negligent in this regard, with cable companies only slightly better. Almost routinely, they will disconnect wiring to the line exclusion jack, either because of pure negligence, or because they don't understand it's function. If your alarm panel starts to give you a trouble beep indicating "no dial tone", attend to it immediately, and do not let them leave until they fix the problems they have just created. !! I suggest you do not sign anything to pay for work done, which will definately get their attention and ensure they do something !! This ongoing gross negligence is a major problem for the alarm industry and their customers and causes untold unnecessary visits to repair their mistakes. In some cases, depending upon the alarm company, this unnecessary service call will be charged back to you the homeowner.
------------------------------------------------------------------------------------------------------------------------------------
A quick overview of the proper way to wire the alarm jack is shown below. Dial tone comes in to the home from the telephone company central office and must be attached directly to the red and green terminals of the alarm jack as the first point of contact within the house. From there, it goes directly to the alarm panel through the grey cord shown on the left, and returns to the jack on the yellow and black terminals of the jack. From here it goes to the house phones. This arrangement allows the panel (via an on board relay) to disconnect the telephones when it needs the line, ensuring that it takes top priority while it is signalling. This also prevents anyone from breaking in, and lifting a telephone receiver to block the outgoing call to the station. It also allows disconnection of the alarm from the phone network to determine whether the alarm is adversely affecting the phones.
NOTE: The four unused terminals in the jack can be ignored.
If your telephone company installer doesn't understand how to wire things properly, you might show him this diagram and explanation !!!!!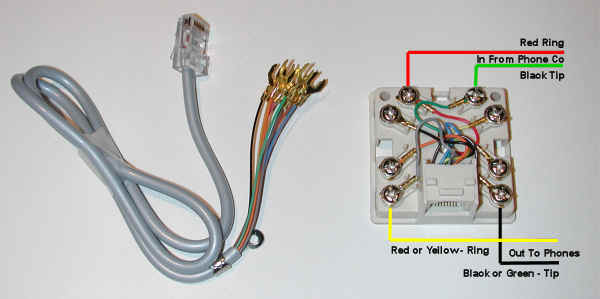 ---------------------------------------------------------------------------------------------------------------------------------------------------------------------------
9- If you are experiencing situations where callers (particularly long distance callers) are hearing what sounds like a fax machine answering your phone, call your alarm company before complaining to the telephone company. If the telephone company comes out and finds the problem is caused by your alarm system, they may well charge you for the unnecessary visit. They are generally very quick to blame the alarm system for any problem which they cannot easily diagnose !!! However, in this instance, it is highly likely that your alarm panel is misinterpreting the ring signals as if your alarm company is trying to dial in to your panel. This problem can easily be remedied by your alarm company by re-programming some settings in the panel over the phone lines from their office such that it won't answer any incoming phone calls without your assistance at the keypad. An easy fix !!
10- Don't forget to check with your alarm company if you are introducing pets into the home ! Many companies use the more expensive pet motions standard, in which case, there is likely no problem in doing this. However, this is very much a price driven marketplace, and pet motions are not usually provided on a standard basis (especially by the big cost conscious alarm companies) unless you are prepared to pay considerable extra cost. Failure to check with your alarm company could result in a needless and sometimes costly false alarm. NOTE: All alarm systems sold and installed by my company use Paradox Digiguard 75 pet immune motions on a standard basis (up to 75 pounds), even though there may be no pets in the home.
11- If you do have pets in the home, and decide to move chairs and furniture, make sure you do not move high backed chairs and the like, to a position where an animal can climb within six measured feet of any pet immune motion detector. To do so will almost guarantee a false alarm since the detector will be overpowered by any animal within that six foot range.
12- If you are having birthday or other celebrations involving floating balloons or other decorations made of mylar plastic, normal movement of these devices by circulating furnace air WILL cause most motions to false alarm. During these times, be sure to ONLY use the "stay" arm mode (motions bypassed for night use).
13- Make sure that there are sufficient decals in place on the outside of the home to warn potential intruders. Many of my customers forget to mount their decals, and in several cases, this has resulted in basement window damage from an attempted break and enter (usually not covered due to being below the usual $500 insurance deductible). Important places to mount decals.....high up on the outside roll down garage door where they are clearly visible for those driving along the street, front window and /or front door, all other exterior entry and exit doors, and basement windows. Ideally, a decal should be visible from all angles one can view the home.
14- Do NOT use your master code as the code you enter into your neighbour's alarm system when you are looking after their home. This master code can be used to allow others to enter arm / disarm codes into your alarm system without your knowledge.
13- Remember, when you give a neighbour your house key, you must automatically at the same time, enter a code in your system for them, as well as ensure they are on the call list at the monitoring station.
15- VERY IMPORTANT If you arm the system and leave the home, and then suddenly remember you have forgotten to take something with you, ALWAYS disarm and re arm the system even if it has only been a few moments since you left the home (no exception). Don't ever try to beat the delay on the alarm system. This is the single most common cause of user caused false alarms.
16- If you commonly exit through the attached garage door, don't neglect to lock the inside door to the home in spite of the fact the rolling garage door has a lock. Doing so can lead to all sorts of problems.
17- Key fobs are a convenient means of arming and disarming your system. Unfortunately, they can also be a major security risk. Do not leave your alarm key fob in your car when parked under any conditions. And it goes without saying, you should never have your address attached to the key fob. If your car is stolen, they have a ready way to both drive to your home and enter it unobserved. If you do lose your alarm key fob, contact your alarm company IMMEDIATELY. They can usually dial in to your panel and disable it !!
18 - If you are thinking of changing out your Bell line or Rogers home phone connection for Voice Over IP (VoIP), consider carefully the fact that your alarm panel may not work properly, or work consistently over time, when signals are transmitted over the internet. My experience leads me to suggest you do NOT under any circumstances use VoIP for the alarm system. There are too many inconsistencies, variables and weaknesses in this method of communication to make it reliable for security services (which MUST work at all times).