VOIP
The industry does not recommend this due to the current unreliability of the internet for security use. Nor are current alarms designed to work over VoIP. However, If you do choose to hook up to VoIP, and do not wish to use a Bell Canada line, or a Rogers home phone line, you may also want to consider an alternative communication mode such as cellular backup. There are companies that will hook up using VoIP; however, this should tell you something about their main concerns...your security or your money ! We will NOT hook up to any version of a VoIP line
Note: Rogers home phone is a perfectly good communications medium for use with an alarm.
Should you wish an alternate method of communications to the monitoring station, see the page titled "Cellular Backup"
Please note, we install or "takeover" residential accounts only - no commercial accounts. Billing for the monitoring and service package is by Pre Authorized Payment Plan ONLY (void cheque, or credit card - monthly quarterly, semi annually or annually). We do not do any direct billing as one way of keeping our combined monitoring, service and warranty package rate of $14.95 at one of the lowest levels in the industry.
New Home Construction Package Pricing
With all the new home construction going on, I have been finding that the vast majority of new homes being constructed are virtually identical in their needs, and can be PROPERLY secured with the following package of both physical and electronic measures.
In order to assist you in your shopping, following are my prices for this "one stop shopping" full package of security measures:
All package system installations include the following:
| | |
| --- | --- |
| | Reinforcing a weak front door strike with 10 inch steel reinforcement plate if needed (needed when there is glass along the lock side of the door) (RETAIL PRICE ABOUT $40) |
| | Installing a white, aluminum "swing down" patio door security bar, plus installation of screws above the door to resist lifting (RETAIL PRICE $25) |
| | Installing a professional alarm system (for make, models, and prices, see below) including all exterior doors armed, 2 pet resistant Paradox Digiguard 75 motion detectors, basement windows armed, monitored smoke detector. |
| | Provide a comprehensive monitoring package comprised of top quality ULC rated monitoring by Security 24 Monitoring Network Ltd on Woodward Avenue, for a rate of $14.95 plus HST ($16.69 - billing by automatic bank withdrawal or credit card ONLY, monthly term contractual commitment ONLY. Note: This price applies regardless of how many points of coverage are being monitored. |
| | Monitoring package includes complete 100% warranty on all your equipment and installation while monitored through my company (including batteries and lightning strike). It even includes errors by other contractors, flooding of the panel....everything!! (this is a part of the after sales costs with some companies which can be expensive if it is not clearly understood at the beginning) |
| | Monitoring package includes free ongoing after sales service when or if required including any new additions to your system later on, at true wholesale cost |
| | Monthly monitoring without the need to sign more than a monthly commitment on your part (see "contracts") |
| | Written five year price guarantee that your monitoring service package price will not rise ( they may never go up, since my cost goes down the more systems I put on line, meaning over time, I make more money without raising prices) |
For the above package to be provided, the basement ceiling must be accessible (open or removable tiles - no drywall), plus the sum total weight of all pets in the home must not exceed 80 lbs. If your basement ceiling is covered with drywall, a totally wireless system (or better, a mixed hardwired system with wireless components to only those inaccessible points) can be provided at extra cost ("hybrid" DSC 1616, DSC Power 1832 or Spectra, plus add on wireless).
Alarm systems and "package prices"available:
DSC Alexor Wireless panel
Totally wireless panel including two wireless doors and 1 wireless motion detector for those situations where a hardwired system is not possible, and a small system is suitable - $500 plus HST installed
Additional motions $100 each, additional door or window contacts $75 each. Wireless smoke detector $150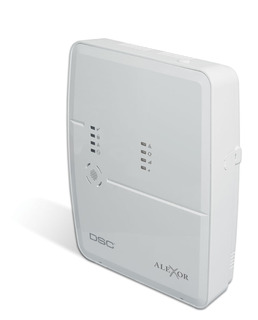 DSC 6 zone 1616 panel (Package Price)
For small homes, limited to 6 zones maximum. For expansion to 14 zones, add $65 for expansion unit.

$550 plus HST installed ($500 if pre wired)*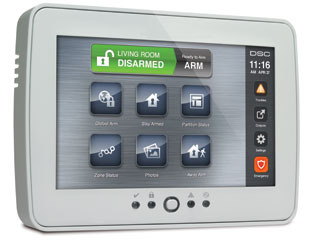 $700 plus HST installed( $650 if pre wired)
*Special price of $450 plus HST installed, regular non pet motions, no smoke detector ($400 only if totally pre wired)

DSC 8 zone 1832 panel (Package price) (expandable to 32 zones in blocks of 8 zones at $65 per expansion unit)

$600 plus HST installed ($550 if prewired)*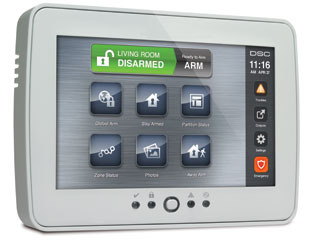 $750 plus HSTinstalled( $700 if pre wired)

Paradox Spectra SP series panel (Package price)
SP 6000...8 zones available
SP 7000...16 zones available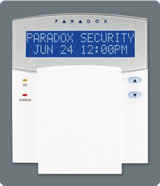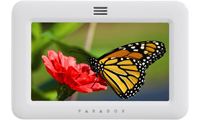 $600 plus HST installed ($550 if pre wired)* $50 upgrade to limit of existing sale stock
This series of panel models equipped with the high end MG LCD 32 English language readout LCD keypad, is the "standard" high end panel we install. If wireless capabilities are required , we will have to add the wireless receiver for an additional $75. Wireless key fobs are $40 each (1 way) or $60 each (2 way) with the SP series. Wireless motions are $100 each and wireless door or window contacts are $75 each.
To replace the LCD 32 keypad with the new white TM50 touchscreen, add $30. Second and additional keypads $200
The TM50 touchpad is also available in a variety of other colours - Piano Black, Vivid Violet , Crimson Red, Apple Green, Mauve and Royal Blue on special order (for which the regular price of $200 will apply)

*Very important to remember, the TRUE cost of your system is the total of the five year price for installation and the monitoring package, plus on average one service call over that period of time.
When comparing quotes, make sure you compare the make and model of equipment being installed. Paradox will cost you a bit more due to the higher end keypad, but you get what you pay for in this business as in all others. LCD keypads cost more but make your system much easier to use.
Use 60 months for your calculations to get a more true representative price comparison and don't be fooled by artificially low upfront prices.
Be sure to establish the cost of future service calls, plus exactly what is and is not covered under warranty (this is a somewhat "hidden" cost which can jump up and bite you in the future
For more detailed information see comparison shopping
Add on options are:
| | |
| --- | --- |
| | Second and additional full LCD Keypad for SP6000 / SP 7000 are $125 each (as pictured) or $200 for TM50 touchscreen |
| | Second and additional DSC 1616 or Power 1832 keypad $105 each ( LED or Fixed Icon LCD), or $140 full LCD or $250 for 7 inch touchscreen |
| | Pre-wired ground floor windows $10 each |
| | Extra smoke detector $50, low temperature switches $30, sump pump switch $30, carbon monoxide detectors $125, (note: this does NOT raise the monitoring price...when so, this is simply a ruse to raise your monthly rate...), wireless smoke detector $150 |
| | Wireless receiver for 1616, Power 1832, $100 (only one required), wireless door or window contacts $75 each, wireless pet motion $100, wireless smoke detector $150 |
| | Wireless receiver for SP6000/7000 $100 (only one required), wireless door or window contacts $75, wireless pet motion $100, wireless smoke detector $150 |
Special Note on ground and second floor installation work
It is very difficult, if not impossible in many cases, to install a second keypad on the second floor of a home if the wiring is not already in place. Neither the pre-wire or non pre-wire prices include installing another keypad on the second floor, or a smoke detector on the second floor, unless the wire is already in place at the location where the device is to go. Ground floor windows not pre-wired can ONLY be done using wireless components due to the extreme danger of tearing the internal wall vapour barrier. Where second floor installation is deemed a necessity, all panels can be equipped with an add on wireless receiver ($100) and wireless key fobs ($25 or $60 each), and a wireless smoke detector ($150). Paradox or DSC wireless window contacts ($75 each) and wireless motions are $100.
For the pre-wire price to apply, wires MUST be in place at each point on the ground and second floor. We do not do attic work of any kind (even with the presence of a pipe from basement to ceiling). Otherwise, all ground floor and upstairs points of protection must be using wireless components.

My specialty for years has been basement window security bars (openable with keys) which I can install at true dealer cost from $70 and up, each, depending upon window size (not included in package pricing ). Applicable dealer cost pricing available ONLY to my alarm customers.
However, there are cheaper but adequate bars available now from such sources as Rona Hardware, and Canadian Tire that make it easy and less expensive to add these.

If you wish backup for your existing landline, Cellular backup is available (full service cellular unit is $180 plus HST, plus an additional $10.95 monthly for the cellular service itself). IP communicators are now also available

Important Note: If I am installing your alarm system, I will be pleased to hook up your internal phone lines while doing your alarm. This can save you the current rate of $90 to have Bell do this while activating your phone line!

For those of you curious about my position in the industry:
| | |
| --- | --- |
| | I am a sole proprietor, in business since 1983, 20 years part time specializing in physical home security, and 18 years full time since I took a "golden handshake" from Bell Canada in 1994. |
| | I currently have over 1000 plus monitored alarm customers in service, with 1000's of other locksmithing and window bar customers over the many years I have been in the security business (business opened 1983, alarm installations since 1994) |
| | I and my son install all our systems to ensure the best of installation techniques are used. |
| | I have partnered with two other small companies to provide continuity of ongoing service for your alarm system should one party be out of town, on vacation, etc |
| | I carry all necessary business liability insurance ($1 million) |
| | I am a member of the Better Business Bureau of Ottawa Carleton, and I have provided them with all relevant information on my company, and I encourage you to contact them |
| | I anticipate many more enjoyable years in this business, and promise you I will NEVER sell out my accounts to a money hungry "mass marketer" . That would be letting you down as my customer. At the moment, my son has been working full time with me for 10 years, and training to eventually take over the business, allowing me more time to run other aspects of the business which are somewhat less strenuous physically. Besides keeping the business in the family, this will provide long term price stability for my customers. |
Contact Information: Robert Campbell, 2316 Nerta Street, Ottawa, Ontario, K1G1E5 Tel: (613) 737-5955, Cell: (613) 798-3434, Fax: (613) 737-6093....email "rh.campbell@homemetal.com"...or..."robercampbell@gmail.com"....or skype "tourman40".
David Campbell: cellphone (613) 227-1320 or email at "david.robert.campbell@gmail.com"
This page was last updated 10 February, 2013