With the strong and steady growth of the internet has come a demand for increased ability to use it for both voice communications and data communications. To date, the alarm industry is just beginning to catch up with advances in types of communications which allow reliable alarm transmission of signals to central monitoring stations. The dramatic increase in VoIP services has also brought strong demand on alarm companies to respond with more cost effective solutions, as clients abandon conventional phone services for internet voice communications products and services.

Lately, alarm manufacturers have begun to respond with IP communicators that allow clients to interface their alarm systems with their home routers through an RJ45 connections and a high speed internet service. These units do offer the client the added advantage of no additional monthly fees which cellular and GSM do not. Some IP devices are unique to a particular alarm manufacturer, whereas others will work with any make of panel, but with fewer features. We now have three units tested and ready to go for installation on demand for customers who have no conventional landline.

Please bear in mind, these devices are ONLY as good as your IP connection and your router. If you choose to use this solution over an arguably more reliable and costly cellular Uplink 2530 device, we STRONGLY recommend as a minimum, backing up your router with a Universal Power Supply. No power, no IP connection, no monitoring services! The convenience features of these devices also mandate that you have sufficient computer skills at least to the level of being able to access your network router on a browser, and understanding such things as DHCP, and how to reset up your router from scratch in case of having it crash, or if for any reason, you are forced to reset the router to default. The basic monitoring functionality will work regardless provided your internet is functional.
Bottom line, in all security situations you must choose the level of security correct for your situation. Price, although always important, should not be the overriding consideration in your decision.

Another prerequisite requirement for any of these technologies is to be able to physically run an ethernet line between your alarm panel and your internet router. That may not always be easy, or even possible in some cases.

Eyez-ON Envisalink line, for use with DSC Alarm Panels ($220 installed, no extra monthly fees)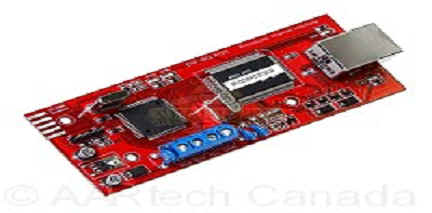 This device is comparable to the TL150 which we previously had up on this site; however it's superior in a number of ways. Beyond basic monitoring, this device also offers smartphone remote access (Apple, Android and Blackberry). This company is constantly developing new software for this device. They have a great community who are helping them create what could be one of the best and most innovative platforms out there. Expect the feature set of this device to be upgraded constantly.
At the moment, this device has the following feature set:

Supports all Power Series™ control panels (DSC 1555MX,632,832,864,1616,1832,1864, and communicates in SIA ONLY)
Instant, always-on IP communication
Works over local LAN/WAN network or the Internet
128-bit AES encryption
Supports DHCP (dynamic IP addresses), or Static setup
No port forwarding or router set-up required
Low network bandwidth usage
Compatible with 10/100/ BaseTX networks
Supervised as a KEYBUS module (supervision of both KEYBUS and network connections)
Adds network and Internet control from a web browser, iPhone, Android, Blackberry or any Smartphone
Arm, Disarm, Check system and zone status, bypass zones
Supports e-mail and text alerts to one or multiple contacts
Alerts can be triggered by alarm, arm/disarm, trouble
IP Camera integration (With some router setup required)
A commitment by the developers and 'power users' of the device to add more features in the future


This device is the ideal interface to other home automation controllers for smart phone control of lighting, thermostats, cameras and a host of other devices. This is comparable to high end Control 4 home automation at a fraction of the cost, and can provide most of the Rogers smart home feature sets without their exhorbitant monthly rate charges

We will be adding further detail in the near future.

In the interim, contact David Campbell at 613-227-1320 to discuss your particular situation.

Paradox IP150 ($220 installed, no extra monthly fee)



For use with the most modern of Paradox panels, this device is quite comparable to the Envisalink for DSC panels. Basic monitoring aside, the convenience features for remote access are quite good. Unfortunately the older lines of Esprit Paradox panels do not work with this device.


Compatible with Spectra SP series (V2.10 or higher), MG5000/MG5050 (V2.10 or higher) and EVO control panels
Instant, always-on IP communication
Works over local LAN/WAN network or the Internet
Data sent and received using 128-bit (MD5 and RC4) or 256-bit (AES) data encryption
Supports DHCP (dynamic IP addresses), or Static setup
Receive notification of system alarms via email
Arm/disarm individual partitions via web browser
View live status of all zones and partitions (i.e. open/close, arm/disarm, troubles and alarms) via web browser
DDNS service available for dynamic IP address
Supports SMTP and ESMTP (TLS/SSL not supported, which may mean finding email servers who allow legacy connections. Try www.lavabit.com)
Very low bandwidth consumption
Smartphone access via applications for purchase on the Android and iPhone app markets. ($10 as of this writing) Blackberry is not currently supported, but web access can still be achieved.

Uplink 5200 IP monitoring service ($150 plus HST purchase, $7 monthly extra)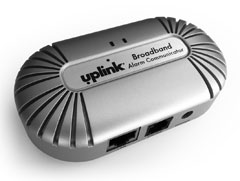 | | |
| --- | --- |
| | This device will work with any panel that communicates in Contact ID format such as the Paradox Esprit series, Spectra series of panels, the Magellan line of panels plus the DSC 632 / 832 **series of Power panels and the new line of 1616 and 1832 panels plus the Alexor panels. |
| | The Uplink 5200 communicator expands the capability of a dial up alarm system to transmit signals over the internet. It is a cost effective solution where there is broadband internet service but no analog telephone line to connect to the alarm system. This unit converts the dialer output of an alarm system to an IP signal that can be transmitted securely over the internet to an Uplink server. A connection is then made to the central station to deliver the alarm signal |
| | Like all IP based solutions, it is highly dependant on a reliable internet connection and a quality router being in place, plus a Universal Power Supply to ensure the monitoring remains in place during a power failure. |
** Many older 1555MX and Power 832 panels will not communicate reliably in Contact ID format in spite of the fact they were designed to do so
Paradox PCS300 ($220 installed, no extra monthly fee), to end of available stock
IMPORTANT NOTE: Paradox has just announced discontinuation of this device. This is a "leading edge" unit in the market, and as such, their decision amounts to a very major marketing mistake. Since we have been unable to convince them to reverse this decision, we can no longer offer this device for sale past our present stock levels; without an ongoing source of supply, we cannot reliably warranty this device.
We have begn a renewed market search for a replacement unit.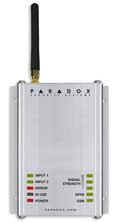 This device is somewhat different than the previous two, in that it has no smart phone access or other convenience features, but it will work with any make and model of alarm panel that communicates via Contact ID. This makes it a universal IP alarm communicator for any situation where the previous two units are not appropriate. Another advantage to this unit is ease of install. The other two units must be in the alarm panel container in the basement. This device can be wired with a single DEDICATED telephone wire and placed near the router if need be. This is sometimes (but not always) possible to work in situations where the router is on the second floor of the house and the alarm control panel is in the basement.

Compatible with dialers on all alarm systems that support Contact ID
Wired into phone network, added installation flexibility.
Report events via IP
Report in conjunction with landline or as a backup to conventional phone service
Module configuration and status via the PCS300 Web Interface
Support for two inputs with report activation capability including SMS notification
Firmware upgrades via IP
256-bit (AES) encryption for reporting and Web Interface
No port forwarding or router setup required
Check back often as we continue to update this page with new products and services. We will soon have a very reasonably priced, full home automation package available for sale.
Large numbers of customers are disconnecting their Bell or Rogers home phone lines without consulting us, and as a result, are finding themselves with alarms that no longer can communicate to the monitoring station over their new VoIP lines. As such, we are currently backlogged in installations of these IP devices, and cannot at this time promise you an immediate installation. Please bear with us until these paying customers are back on line, after which we can assist you. Thank you for your patience.
Please note, use of any IP communication medium for your alarm assumes you have basic computer knowledge and are capable with making changes to your modem and router configurations, passwords, and generally understand the basics of internet protocol and DHCP. We will install your communicator and initially set up your router system to ensure communications to the station; however, we cannot act as network advisors on an ongoing basis.
Should your router and modem not be protected against power outages by use of a UPS, and your router and or modem lose power, you may well encounter problems re-establishing communication with the station. We will gladly assist verbally, but should another visit be required to re-set router configurations, a $40 service call will be required.
This is the sole exception to our totally free service concept.